Maned Duck
The flightless New Zealand species Chenonetta finschi which was formerly believed to constitute a monotypic genus has been determined to belong to Chenonetta . It became extinct before scientists could properly survey the New Zealand avifauna, but possibly as late as 1870 .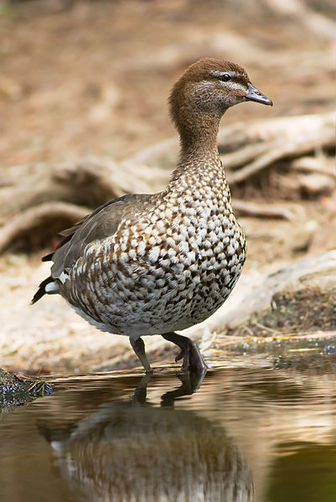 Picture of the Maned Duck has been licensed under a Creative Commons
Attribution-Share Alike
.
Original source
: Own work
Author
: JJ Harrison (http://www.noodlesnacks.com/)Camera location
The Maned Duck is classified as Least Concern. Does not qualify for a more at risk category. Widespread and abundant taxa are included in this category.

The Maned Duck is also known as the Australian Wood Duck. next (Maned Duck) last first previous (Mandarin Duck) Maned Duck Copyright and usage info: This file is licensed under the Creative Commons Attribution ShareAlike 2.5 License. In short: you are free to share and make derivative works of the file under the conditions that you appropriately attribute it, and that you distribute it only under a license identical to this one. More
The Australian Wood Duck or Maned Duck, Chenonetta jubata, is a dabbling duck found throughout much of Australia. It is the only living species in the genus Chenonetta. Traditionally placed in the Anatinae (dabbling duck) subfamily, it might actually belong to the Tadorninae (shelduck) subfamily (Sraml et al. 1996); possibly, the Ringed Teal is its closest living relative (Johnson & Sorenson 1999). Its habitat is lightly wooded swamps and marshes. This abundant duck nests in a tree hole laying 8-12 eggs. More
all » Maned Duck (Chenonetta jubata) Filmed at Rush Creek, SE Qld April 1996 using Canon EX1 Hi8 & Sigma 400mm lens.« Download video - iPod/PSPDownload is starting. Save file to your computer. If the download does not start automatically, right-click this link and choose "Save As". How to get videos onto the iPod or PSP. Embed video ▲ ▼ Playlist: Related videos Loading... More
Description: The Wood Duck or Maned Duck, Chenonetta jubata, is 45-50 cm long, with a goose like short dark bill, olive-brown legs and brown iris. The upper body has grey feathers with dark quills and the breast is speckled grey-brown. On the wings there is a green stripe between two white stripes. The head and neck are brown and the male has a short dark mane on the nape. More
The Maned Duck, Chenonetta jubata, is a dabbling duck found throughout much of Australia. Its habitat is lightly wooded swamps and marshes. This abundant duck nests in a tree hole laying 8-12 eggs. The male is grey with a dark brown head and mottled breast. The female has white stripes above and below the eye and mottled underparts. Both sexes have grey wings with black primaries and a white speculum. More