Ross' Goose
The Ross's Goose is a North American species of goose.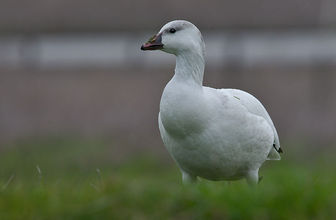 Picture of the Ross' Goose has been licensed under a Creative Commons
Attribution
.
Original source
: Ross's Goose (Chen rossii or Anser rossii)Uploaded by Snowmanradio
Author
: Mike Baird from Morro Bay, USACamera location
The Ross' Goose is classified as Least Concern. Does not qualify for a more at risk category. Widespread and abundant taxa are included in this category.

North American RangeThe Ross' Goose is a small goose, similar in appearance to the Snow Goose. Like the Snow Goose, the Ross' Goose has a light and dark morph, although the dark-morph Ross' Goose is extremely rare. The light morph is white, and the dark morph is gray with a white head. Both morphs have black primaries. The bill is small and lacks the 'grin-patch' seen on the Snow Goose. Juveniles are mostly gray. More
The Ross' goose is a small white goose with black primary feathers. The bill is a deep reddish-pink with a paler nail and a variably bluish warty area over the base of the basal area. The legs and feet are rose-pink and the iris is dark brown. The sexes are dimorphic with the female being an average of 6% smaller than the male. More