Ringed Teal
The male and female remain colourful throughout the year, lacking an eclipse plumage. The drake has a rich chestnut back, pale grey flanks and a salmon-coloured breast speckled in black. A black band runs from the top of its head down to the nape. Females have an olive-brownish back with the head blotched and striated in white, with pencilled barring on a pale chest and belly. Both have a dark tail, a contrasting pale rump, and a distinctive white patch on the wing. Bills are grey and legs and feet are pink in both sexes. Pairs easily bond. Their contact calls are a cat-like mee-oowing in ducks, a lingering peewoo in drakes.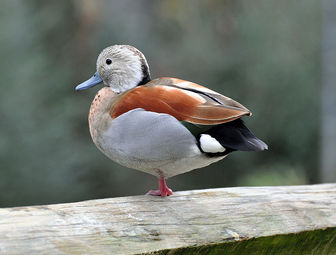 Picture of the Ringed Teal has been licensed under a Creative Commons
Attribution
.
Original source
: Own work
Author
: Kevin Bercaw
The Ringed Teal is classified as Least Concern. Does not qualify for a more at risk category. Widespread and abundant taxa are included in this category.

The Ringed Teal (Callonetta leucophrys) is a small duck of South American forests. It is the only species of the genus Callonetta. Usually placed with the dabbling ducks (Anatinae), this species may actually be closer to shelducks and belong in the subfamily Tadorninae; its closest relative is possibly the Maned Duck. female The male and female remain colourful throughout the year, lacking an eclipse plumage. More
HABITAT AND RANGE: Ringed Teal ducks are found in South America, from southern Bolivia, Paraguay, and southwestern Brazil to northeastern Argentina and Uruguay. Their habitats include tropical, swampy forests and marshy clearings in well-wooded lowlands, as well as secluded pools and small streams. PHYSICAL CHARACTERISTICS: Roughly translated, the Latin name of the Ringed Teal, Callonetta leucophrys, means "the beautiful duck with the white wing patches. More
Ringed teal have strong, pointed claws on their feet and so can readily perch in trees. Length: 14-15 inches Weight: 11-12 ounces Coloration: Ringed Teal, typical of wood ducks, have beautiful iridescent greenish plumage patterns, especially on the wings. They may be distinguished by a white patch in front of the green speculum. The males have a finely speckled, pinkish breast and a buff colored head with a black posterior border. More
The Ringed Teal are probably the cheapest of the smaller ducks to purchase. The male and female remain colourful throughout the year, no eclipse plumage, The drake having a rich chestnut back, pale grey flanks and a salmon coloured breast speckled in black. A black band runs from the top of it`s head down to it`s nape. More
surface ducks, ringed teal can dive underwater to escape predators. However, they seldom dive deeper than one meter. While swimming, they hold their tails horizontally so that they do not touch the surface of the water. After dabbling, they flap their wings vigorously a few times to shake out any water that might have entered the wing pockets or other air spaces. This picture was taken at an animal park. More
The ringed teal live in South America, from southern Bolivia, Paraguay and southwestern Brazil to northeastern Argentina and Uruguay in wooded habitats. They have strong, pointed claws on their feet so they can readily perch in trees. Their length can be up to 14-15 inches with a 28 inch wingspan and weight of 11-12 ounces. Typical of wood ducks, they have beautiful iridescent greenish plumage patterns, especially on the wings. Their legs are light pink, the slender bill bluish grey and the eyes brown. More
The Ringed Teal And His Pretty Blue Beak Sunday, December 21st, 2008 (more…) 1 Star2 Stars3 Stars4 Stars5 Stars (2 votes, average: 5 out of 5) Loading ... Loading ... More
Ringed Teal (Callonetta leucophrys)Distribution / Breeding The Ringed Teal breeds in north-west Argentina and Paraguay, also occurring in Bolivia, Brazil and Uruguay. Their habitats include tropical, swampy forests and marshy clearings in well-wooded lowlands, as well as secluded pools and small streams. Calls / Vocalizations Contact calls: she has a cat like `mee-oowing` and he a lingering `peewoo`. More
Ringed teals are members of the wood duck group. They are found in swampy tropical forests and marshy clearings in well-wooded lowlands. They can also be found in secluded pools and small streams. All wood ducks have strong, pointed claws so that they can perch on trees. The ringed teal eats seeds and other small items. They forage by picking from the water surface and by head dipping while swimming in shallow water. More
A small South American wild duck, the Ringed Teal is popular with waterfowl collectors. It is a pretty little bird, easy to care for and it gets along well in a mixed collection. Unlike most waterfowl, the drake lacks an eclipse plumage and retains his colorful plumage year-round. This is a result of its tropical habitat and prolonged breeding season. Fast and agile flyers, Ringed Teal enjoy perching in trees well off the ground. More
* 43 2009 06 18 Ringed teal at Harewood Bird Garden 43 2009 06 18 Ringed teal at H... * 44 2009 06 18 Ringed teal at Harewood Bird Garden 44 2009 06 18 Ringed teal at H... * 45 2009 06 18 Ringed teal at Harewood Bird Garden 45 2009 06 18 Ringed teal at H... More
The most striking physical feature of a ringed teal is the black coloration on its crown and hind neck. The teals are colourful all year round but males have redder backs. Both males and females have distinctive white patches on their wings and their call sounds like a cat. Diet Ringed teals eat seeds, water plants and some insects. More
At Marwell the ringed teals are kept in an open topped enclosure with a large pond. To prevent the birds from flying away their wings are pinioned, this is done when the ducklings are 2 days old. The ducks have nest boxes in their enclosure. Where the boxes are in trees there are branches for the birds to walk up to the nest. When eggs are laid most of them are removed and hatched in an incubator to prevent the newly hatched ducklings from being killed by the local crows. More
(information about the ringed teal is coming soon) See Also: * Birds of Hawaii * Bird Watching in Hawaii - Related Links Plants and Animals of Hawaii Islands of Hawaii Hawaii for Visitors - Kathie Editor Kathie Fry Kathie Fry on Facebook Email Kathie Recent Newsletter More
Almost all ringed teal nests are in holes or other cavities in trees. The nest is lined with down. The incubation period is about 29 days. Both the male and female take turns incubating the eggs and caring for the young. Hatching is timed to the weather and food availability, synchronizing with the best conditions. Like all Antacids, wood duck chicks are precocial. They are distinguished from other species by little, pointed claws and long stiffened tail feathers. More
The Ringed Teal breeds in north-west Argentina and Paraguay, also occurring in Bolivia, Brazil and Uruguay. Their habitats include tropical, swampy forests and marshy clearings in well-wooded lowlands, as well as secluded pools and small streams. More
The little Ringed Teal is one of the prettiest of the Paraguayan ducks, males being particularly attractive with their chestnut wings, blue bill and a brown "balaclava". They form small flocks on freshwater sources in the Chaco, but are only rarely seen in the Orient, and often find that cattle ponds (tajamares) more than fulfil their habitat requirements! Click on the images to enlarge them.FIGURE 1 - Males, PN Tte Enciso, Departamento Boquer More