Musk Duck
They are moderately common through the Murray-Darling and Cooper Creek basins, and in the wetter, fertile areas in the south of the continent: the south-west corner of Western Australia, Victoria, and Tasmania. Musk Ducks avoid the far north, or the arid west and north-west.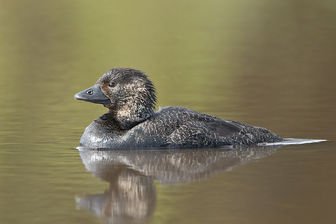 Picture of the Musk Duck has been licensed under a Creative Commons
Attribution-Share Alike
.
Original source
: Own work
Author
: JJ Harrison (http://www.noodlesnacks.com/)Camera location
The Musk Duck is classified as Least Concern. Does not qualify for a more at risk category. Widespread and abundant taxa are included in this category.

The Musk Duck (Biziura lobata) is a highly aquatic, stiff-tailed duck native to southern Australia. It is the only living member of the genus Biziura. An extinct relative, the New Zealand Musk Duck or de Lautour's Duck (B. delautouri) once occurred on New Zealand, but is only known from prehistoric subfossil bones. It was about 8% longer than the living species, with a particularly large head. More
The Musk Duck (Biziura lobata) is a highly aquatic, stiff-tailed duck native to southern Australia. They are moderately common through the Murray-Darling and Cooper's Creek basins, and in the wetter, fertile areas in the south of the continent: the south-west corner of Western Australia, Victoria, and Tasmania. Musk Ducks avoid the far north, or the arid west and north-west. It is the only living member of the genus Biziura. An extinct relative, the New Zealand Musk Duck or de Lautour's Duck (B. More
Musk Duck is an endemic Australian bird species and the largest of Australian ducks. Male is larger than female. Its name comes from the strong musk odour produced by a gland on the rump. BEHAVIOUR: Musk Duck is a diving duck. It can dive until six metres depth. It feeds by diving into deep water, but also by dabbling. It rests on the water, but dives very often if disturbed. More
Musk Ducks float very low in the water, almost like a cormorant, and their dark grey-brown, sightly pin-striped plumage is initially drab and unattractive. They seldom emerge from the water and are awkard on dry land. They rarely fly: take off is made with with difficulty, and splash down is a clumsy, low-angled affair with no attempt to lower the feet. However, at need Musk Ducks fly swiftly and for long distances, with rapid, shallow wing beats. More
In general, Musk Ducks remain in the water all day long, alternately loafing and feeding energetically, though they sometimes emerge to sit on a log or on dry land for a while. They stay on the water at night, sleeping well out from land with the head tucked into the body or under a wing. More
Musk Ducks have legs that are placed far back on the body to help them swim and dive, making them clumsy walkers. So, unlike many other duck species, they are very rarely seen on land, preferring to stay in the water. More
Generally, Musk Ducks are seen in small numbers on deep, sheltered, permanent freshwater lakes and swamps throughout all of southern Australia. They sometimes occur on saline wetlands and tidal estuaries and bays. Status The Musk Duck is fully protected in all states and territories and must not be shot. Description Musk Duck are very rarely seen in flight. On the water, the Musk Duck dives repeatedly when disturbed. More
The male Musk Duck is the largest of Australia's ducks and has a powerful build. Musk Ducks get their name from the strong musk odour produced from a gland on the rump. The female is smaller than the male. Both male and female Musk Ducks are sooty-brown in plumage, with paler brown barring on the body and fine spots of the head. They are paler below, becoming whiter towards the abdomen. The male is decorated with a large bulbous lobe of skin hanging under his bill. More
musk duckmusk duck - large crested wild duck of Central America and South America; widely domesticatedCairina moschata, muscovy duckduck - small wild or domesticated web-footed broad-billed swimming bird usually having a depressed body and short legsCairina, genus Cairina - a genus of Anatidae How to thank TFD for its existence? Tell a friend about us, add a link to this page, add the site to iGoogle, or visit webmaster's page for free fun content. More
* Musk Duck - Cheap Prices Get the Best Value for Musk Duck. Find Our Lowest Price and Save. www.NexTag.com * New Updates On MUSK Don't Invest Until You Read What the Stock Scout Knows. www.TheStockScout.com/MUSK * Mandarina Duck Kangu Bargain Prices. Smart Deals. Save on Mandarina Duck Kangu. BizRate. More
resident, Musk Duck, is no exception. Usually found on deep, fresh water in southwestern and southeastern Australia, the Musk Duck is a dark, freckled, diving duck, with a stiff tail and grey triangular bill. Seldom seen flying and clumsy on land, they are like a duck to water, swimming low and diving underwater to feed on aquatic invertebrates. More
Musk Duck (Biziura lobata) of southern Australia, the muskox, the musk shrew, the musk beetle (Aromia moschata), African Civet (Civettictis civetta), the musk turtle, the alligator of Central America, and from several other animals. In crocodiles, there are two pairs of musk glands, one pair situated at the corner of the jaw and the other pair in the cloaca. Musk glands are also found in snakes. More
Musk Ducks float very low in the water, almost like a cormorant, and the... More
Musk Ducks are found only in Australia. They range from north-west Western Australia, through the south and east to southern Queensland, and can be found several hundred kilometres inland in some areas. Habitat Musk Ducks tend to be found in deep freshwater lagoons, with dense reed beds. They are normally seen singly or in pairs, but may form medium to large groups in the winter. Flight usually takes place at night. More
Use musk duck in a SentenceSee images of musk duckSearch musk duck on the Web - Origin: 1765–75 Muscovy duck - –nouna large, crested, wild duck, Cairina moschata, of tropical America, that has been widely domesticated. Also called musk duck. - Origin: 1650–60 Dictionary.com Unabridged Based on the Random House Dictionary, © Random House, Inc. 2010. More
Baby Musk Duck - Presentation Transcript - 1. Musk Duck 2. The habitat for a musk Duck is Permanent Swamps with dense vegetation (especially during breeding) , large open lakes tidal inlets and bays and occasionally the open sea. More
About Musk Duck's Habitat Food 3. Baby Musk Duck Week 1 ! This is the little baby Musk Duck that just come out of the water with little drops of water on it. This is the little musk duck that is only 1 week old. And having fun in the water. 4. More
musk duck definition Hear it! = musk duck definition musk duck 1. an Australian duck (Biziura lobata) with an inflatable leathery pouch beneath the lower jaw, spikelike tail feathers, and a musklike odor during the breeding season 2. Muscovy duck musk duck noun 1. See Muscovy duck. More
The musk duck (Biziura lobata) is a "lek-displaying diving duck endemic to deep water wetlands, river systems, and coastal oceanic waters of temperate Australia," and it gets its name from the "strong musk produced from a gland on the rump. More
The Musk Duck by Francis Duggan Search: Home Poets Poems Lyrics Quotations Music Forum Member Area Poetry E-Books Francis Duggan Poems Comments More Info Stats > Share | The Musk Duck User Rating: - /10 (0 votes) 0 Print friendly version More