Tufted Duck
The adult male is all black except for white flanks and a blue-grey bill. It has an obvious head tuft that gives the species its name. The adult female is brown with paler flanks, and is more easily confused with other diving ducks. In particular, some have white around the bill base which resembles the scaup species, although the white is never as extensive as in those ducks.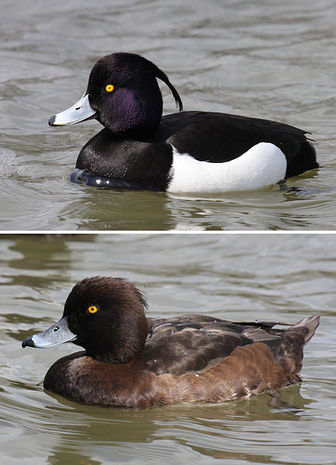 Picture of the Tufted Duck has been licensed under a Creative Commons
Attribution-Share Alike
.
Original source
: Own work
Author
: Andreas TreptePermission(Reusing this file) This file is licensed under the Creative Commons Attribution-Share Alike 2.5 Generic license.You are free:to share – to copy, distribute and transmit the work
The Tufted Duck is classified as Least Concern. Does not qualify for a more at risk category. Widespread and abundant taxa are included in this category.

The Tufted Duck, Aythya fuligula, is a medium-sized diving duck with a population of close to one million birds. More
The Tufted Duck has a large range, estimated globally at 10,000,000 square kilometers. Native to Asia, Africa, Europe, and North America, this bird prefers wetland or marine ecosystems, though it can live in ponds. The global population of this bird is estimated at 2,700,000 to 4,100,000 individuals and does not show signs of decline that would necessitate inclusion on the IUCN Red List. For this reason, the current evaluation status of the Tufted Duck is Least Concern. More
Male tufted ducks closely resemble their counterparts in ring-necked ducks. The principle difference is the tuft of feathers that fall behind the head. In addition, the sides are white rather than gray, the bill lacks a white margin at the base, and in flight a white stripe at the back of the inner wing is displayed. The female tufted duck is similar in appearance to female Scaup, but is black-brown with a smaller patch of white at the base of the bill. More
Regal Tufted Duck Swimming On A Sunday Afternoon Regal Tufted Duck Swimming On A Sun... More
The Tufted Duck is one of the species to which the Agreement on the Conservation of African-Eurasian Migratory Waterbirds (AEWA) applies. Distribution - The Tufted Duck breeds widely throughout temperate and northern Eurasia. It occasionally can be found as a winter visitor along both coasts of the United States and Canada. More
Tufted ducks are, indeed, tufted, although the drake has a more prominent crest than the female (duck). The specific scientific name, fuligula may derive from the Latin word fuligo meaning soot, and drakes have glossy black plumage on their head ... More
The male tufted duck has a long and shaggy crest, which is it's most striking feature. The bill is gray with a black tip. From a distance, they have black blacks and gleaming white wings and body. The females have a dark brown head, back and breast. The female also has a black tipped bill. Both of the sexes eyes are yellow and feet are gray. The male tufted duck changes in appearance. More
Tufted DucksThe Tufted Duck (Aythya fuligula) is a medium-sized diving duck with a population close to one million birds. Description The adult male is all black except for white flanks and a blue-grey bill. It has an obvious head tuft that gives the species its name. The adult female is brown with paler flanks, and is more easily confused with other diving ducks. More
The Tufted Duck is a medium-sized diving duck with a population of around one million birds throughout temperate and northern Europe and Asia. It occasionally can be found as a winter visitor along both coasts of the United States and Canada. It is believed to have expanded its traditional range with the increased availability of open water due to gravel extraction, and the spread of freshwater mussels, a favourite food. More
The Tufted Duck breeds at high and middle latitudes from Iceland eastward to Siberia and winters farther south in Europe, Africa, and Asia. Significant numbers reach North America in fall migration and spend the winter, mostly along the Atlantic and Pacific coasts. They are usually found as single birds associating with flocks of scaup or Ring-necked Ducks, often in city parks, and sometimes return for successive years. More
tufted duck is similar in appearance to female scaup, but is black-brown with a smaller patch of white at the base of the bill. At the back of the head, there is a small protuberance of feathers, which is much smaller than the male's. Breeding: Tufted ducks breed across Eurasia from Iceland and the British Isles east across Russia and Siberia to the Kamchatka Peninsula and the Commander Islands. There are no breeding records of tufted ducks in North America. More
the The Tufted Duckers - The Flickr Tufted Duck Appreciation Society group icon The Tufted Duckers - The Flickr Tufted Duck Appreciation Society = Group Pool Discussion 50 Members Map Join This Group Guest Passes let you share your photos that aren't public. Anyone can see your public photos anytime, whether they're a Flickr member or not. But! If you want to share photos marked as friends, family or private, use a Guest Pass. More
The Tufted Duck (Aythya fuligula) is a medium-sized diving duck. It breeds widely throughout temperate and northern Eurasia, and occurs as a rare visitor in North America. It is believed to have expanded its traditional range with the increased availability of open water due to gravel extraction, and the spread of freshwater mussels, a favourite food. The population of this abundant duck is probably close to one million birds. More
Tufted Ducks, Abberton Reservoir (Essex, UK), 21st August 2004 Tufted Duck, Swanton Morley, 25-Mar-07 Tufted Duck, Swanton Morley, 25-Mar-07 Tufted Duck, Swanton Morley, 25-Mar-07 Tufted Duck, Swanton Morley, 25-Mar-07 male Tufted Ducks, Swanton Morley (Norfolk, UK), 25th March 2007 Tufted Duck, Whitlingham CP, 22-Mar-08 Tufted Duck, Whitlingham CP, 22-Mar-08 female Tufted Duck, Whitlingham Country Park (Norfolk, UK), 22nd March 2008 Tufted Duck, Swanton Morley, More
The RSPBFlock of tufted ducks in flightView looking over gravel pit, RSPB Dungeness reserveMale tufted duck on lake * A * B * C * D * E * F * G * H * I * J * K More
A male Tufted Duck is spending his third winter in Santa Cruz County, California. He was first found in December 2001 at Westlake Pond in Santa Cruz, where he remained from December 15, 2002, to March 31, 2002, providing just the 2nd county record. He returned to Westlake Pond the next winter, being noted there from December 17, 2002 through January 5, 2003. During this time he also visited some other undetermined site(s). More
Tufted duck sometimes gather together forming huge flocks in winter, a flock of 20,000 birds was once recorded on Lough Neagh, County Down in Northern Ireland. Tufted Duck records in the Western Isles Fairly common resident breeder (occurs in small numbers) in the Uists & Benbecula (mostly machair lochs), scarce breeder in Lewis & Harris (occurs in small numbers). More
Very well striking captured of this Tufted Duck, Siggi! Congratulation for that achievement! The image, however has some strange color cast in my opinion, but I thing this can be easily adjusted. More
A great big thanks to the Tufted Duck hotel who returned my mobile phone charger the day after I contacted them to report that I had left it! Super food , very clean and our 6th visit. Thanks again more "Enjoyable dining experience....." Save Review 5 of 5 stars dophinUk 111 contributions UK Jan 10, 2010 | Trip type: Couples Been twice for meals since the Tufted Duck Hotel has been renovated. The decor and ambience of the hotel is real nice with great views overlooking the sea. More
Situated with panoramic coastal views, the Tufted Duck Hotel is located on the North East coast of Scotland, within the historical fishing village of St Combs. Only 40 minutes from Aberdeen, the hotel offers rest and relaxation in its resplendently decorated interior, accompanied by superb dining, fine wines and of course impeccable service. Having gone through an extensive expansion and refurbishment, this boutique hotel offers accommodation options from single through to executive suites and also disabled facilities. More
The adult male Tufted Duck is all black with white sides and a blue gray bill, and a tuft on the head. The eye is bright yellow. The female is brown with paler brown sides. Tufted ducks are diving ducks, and search for food underwater amongst water weed and under stones. Size Length: 40 More