Greylag Goose
It was in pre-Linnean times known as the Wild Goose . This species is the ancestor of domesticated geese in Europe and North America. Flocks of feral birds derived from domesticated birds are widespread.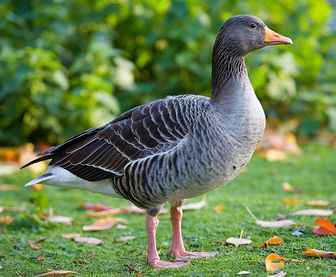 Picture of the Greylag Goose has been licensed under a
GFDL
Original source
: Own work
Author
: Diliff
Permission
: GNU Free Documentation License
The Greylag Goose is classified as Least Concern. Does not qualify for a more at risk category. Widespread and abundant taxa are included in this category.

The Greylag Goose (also spelled Graylag in the United States), Anser anser, is a bird with a wide range in the Old World. It is the type species of the genus Anser. It was in pre-Linnean times known as the Wild Goose ("Anser ferus"). This species is the ancestor of domesticated geese in Europe and North America. Flocks of feral birds derived from domesticated birds are widespread. More
Within science, the greylag goose is most notable as being the bird with which the ethologist Konrad Lorenz first did his major studying into the behavioural phenomenon of imprinting. More
Within science, the greylag goose is most notable as being the bird with which the ethologist Konrad Lorenz first did his major studying into the behavioural phenomenon of imprinting. Greylag Goose (also spelled Graylag in the United States), Anser anserDescription The Greylag is the largest and bulkiest of the grey Anser geese. It has a rotund, bulky body, a thick and long neck, and a large head and bill. It has pink legs and feet, and an orange or pink bill. More
Greylag goose on water Greylag goose on waterPrint factsheet Facts - Kingdom Animalia Phylum Chordata Class Aves Order Anseriformes Family Anatidae Genus Anser Size Wingspan: 149 – 168 cm Body length: 74 – More
Greylag goose (Anser anser) Neckring program in Flanders (Belgium) (Green neckrings with white codes, series X) In May 2000 a Graylag goose ringing program started, aiming to identify the status and movements of the local breeding population at Damme (near Bruges). These birds presumably still have genetic links with the feral Graylags of the Zwin nature reserve, where birds of eastern origin (A. anser rubrirostris) were introduced in the mid 1950s. Free flying offspring developed an increasing population. More
Greylag Goose records in the Western Isles Fairly common resident breeder (100-999 breeding pairs) and fairly common passage (occurs in small numbers) (Icelandic population). Source: Outer Hebrides Bird Report (2001) On the chart below the darker the shade of blue the more abundant the Greylag Goose is during a month or the more likely you are to see it. More
Thus the Greylag Goose is the grey goose, which in England when the name was given, was not strongly migratory but lagged behind the other wild goose species when they left for their northern breeding quarters. In Great Britain they much declined as a breeding bird, retreating north to breed wild only in the Outer Hebrides and the northern mainland of Scotland. More
The Uist Greylag Goose Committee found through trials that a low wire fence around crops was a very successful deterrent. to be continued ... More
Images Greylag goose on water If you see a wild grey goose in the UK outside the winter months, it will almost certainly be a greylag. The only other 'wild' goose seen throughout the year, and the only one apart from the greylag to breed in Britain, is the Canada goose, an ... More
The Greylag Goose Anser anser, shown landing on a lake, is the ancestor of one of the two types of domestic goose (the other is the Oriental Swan-goose). More
Greylag Goose, Swanton Morley, 29-Mar-09 Greylag Goose, Swanton Morley, 29-Mar-09 pair of Greylag Geese, Swanton Morley (Norfolk, UK), 29th March 2009 Greylag Goose, Wroxham Broad, 18-Apr-10 pair of Greylag Geese with goslings, Wroxham Broad (Norfolk, UK), 18th April 2010 Greylag Goose, Cley, 07-Nov-03 Greylag Goose, Coxford, 15-Mar-04 Greylag Goose, Cley (Norfolk, UK), 7th November 2003 Greylag Goose, Coxford (Norfolk, UK), 15th March 2004 Greylag More
The Greylag Goose: The Greylag is a large goose, 74-84 cm long with a 149-168 cm wingspan. It has a large head and almost triangular bill. The legs are pink, and the bird is easily identified in flight by the pale leading edge to the wing. More
The Greylag Goose, a native of northern and central Eurasia, has been domesticated and raised for meat for over 1,000 years. It can be white, completely gray (like the wild form), or somewhere in-between. Dozens of domestic breeds exist, with lots of variation in size and coloring. (In some the coloring is sex-linked, with females having gray patches and the males always white!) These domestic greylag geese were present in the marina at Myers Pt. More
Greylag Goose - Greylag Goose information - Greylag Goose facts The Graylag goose is a large bird, that is spread world-wide. It is the ancestor of domesticated geese in Europe and in North America. It can be found in North America then all over Europe and eastwards it extends across Asia to China. It inhabits different places, that are close to lakes, slow-flowing rivers etc. More
The Greylag Goose is the species from which most farmyard geese were bred as can be seen by comparing their calls and the size, shape and colour of their bills and feet. In the wild the big deep-based bill, pink or orange is always diagnostic and the pink legs would rule out any species other than Pink-foot. Greylags are also bigger, bulkier and paler than other grey geese. More
FBI: P2300871 CLOSE UP OF A GREYLAG GOOSE AFTER IT CAME OUT OF THE WATER.. THANKS EVERYONE FOR OVER 41,000 VIEWS- AND ALL YOUR VISITS- COMMENTS, FAVES, AND INVITES. GreyLag Goose. Locations for recordings with GPS coordinates Results 1 - 14 of 14 from 1 species for sp:247.25 (foreground species only). More
Greylag Goose at the Riparian Preserve at Water Ranch in Gilbert. © Heather Butcher, used with permission. Prev Next Local Birds Arizona's State BirdRio Salado Habitat Restoration AreaRiparian Preserve at Water Ranch Contribute to About Phoenix Submit a Photo: Birds, Sunsets, Fireworks, or ... More
A Greylag Goose at Lake Rudan. It was a beautiful autumn day and I visited Lake Rudan and Skutan in Handen. To take full advantage of Flickr, you should use a JavaScript-enabled browser and install the latest version of the Macromedia Flash Player. Comments Hobgrumble says: The sky here at the moment is often filled with thousands of migrating geese. More
* Greylag Goose Two birds on a winter feeding place Osnabrück, Lower Saxony, Germany Susanne Rintelen 13 February 2010 12 weeks ago 3.8 * A bird swimming. Camargue, France (ssp anser) Christophe Gouraud 26 April 2008 33 weeks ago 3.8 * Greylag Goose taking off. More