Australasian Shoveler
The male has a blue-grey head with a vertical white crescent in front of the eyes.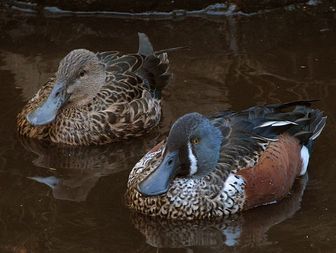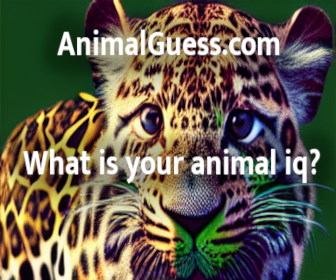 Picture of the Australasian Shoveler has been licensed under a Creative Commons
Attribution-Share Alike
.
Original source
: originally posted to Flickr as Australasian Shoveler - Kuruwhengi - Anas rhynchotis (Anatidae)
Author
: Michael HamiltonPermission(Reusing this file)This image, which was originally posted to Flickr.com, was uploaded to Commons using Flickr upload bot on 09:53, 4 June 2008 (UTC) by Kahuroa (talk). On that date it was licensed under the license below. This file is licensed under the Creative Commons Attribution-Share Alike 2.0 Generic license.You are free:to share – to copy, distribute and transmit the work
The Australasian Shoveler is classified as Least Concern. Does not qualify for a more at risk category. Widespread and abundant taxa are included in this category.

The Australasian Shoveler (Anas rhynchotis) is a species of dabbling duck in the genus Anas. It ranges from 46–53 cm. It lives in heavily vegetated swamps. In Australia it is protected under the National Parks and Wildlife Act, 1974. They occur in southwestern and southeastern Australia, Tasmania, and New Zealand. The male has a blue-grey head with a vertical white crescent in front of the eyes. The Australasian Shoveler has two subspecies: * A. More
The Australasian shoveler was the first of the New Zealand ducks to take to the open ocean as a refuge from hunters. Their swift and erratic flight also aids in their survival but the species replies readily to decoys and callers. About 30,000 are shot each year in the duck shooting season, out of an estimated national population of just 150,000 birds. Unlike other dabbling ducks, the Australasian shoveler cannot supplement its diet by grazing on grass roots or grains. More
The Australasian Shoveler (Anas rhynchotis) is a species of dabbling duck in the genus Anas. The male's head is blue-grey, with a vertical white crescent. It ranges from 46-53 cm. It lives in heavily vegetated swamps. In Australia it is protected under the National Parks and Wildlife Act, 1974. References - * BirdLife International (2004). Anas rhynchotis. 2006 IUCN Red List of Threatened Species. IUCN 2006. Retrieved on 11 May 2006. More
The other subspecies, the Australasian shoveler Anas rhynchotis rhynchotis, occurs in the southeastern and southwestern regions of mainland Australia, and in Tasmania. Above: A male New Zealand shoveler Anas rhynchotis variegata at National Wildlife Centre, Mt Bruce, 1971. Photo: J.L. Kendrick, Crown Copyright More
The Australasian Shoveler (Anas rhynchotis), is a species of dabbling duck found in Australia. It is a protected species under the National Parks and Wildlife Act, 1974. Adults are 18 to 21 inches in length. Males have a blue-gray head with a vertical white crescent. Its habitat is heavily vegetated swamps. More
The Australasian Shoveler is the only Australian duck with a noisy whirring flight. Alternative Name/s Spoonbill Duck, Shovelbill, Blue-winged Shoveler, Stinker Identification The Australasian Shoveler is a low-floating, dark headed duck, with a low sloping forehead blending to a heavy, square-cut, shovel-tipped bill. More
explanation, but an escaped Australasian Shoveler is very well possible. 11:21 PM EST Starz723 said... Escapee is possible. More
The Australasian Shoveler (Anas rhynchotis) is a species of dabbling duck in the genus Anas. It ranges from 46–53 cm. More
* The Australasian Shoveler (Anas rhynchotis) is a species of dabbling duck in the genus Anas. It ranges from 46–53 cm. It lives in heavily vegetated swamps. In Australia it is protected under the National Parks and Wildlife Act, 1974. They occur in southwestern and southeastern Australia, Tasmania, and New Zealand. More
Australasian Shoveler ( Anas rhynchotis ) = Australasian Shoveler | Anas rhynchotis photo Anas rhynchotis variegata, Australasian Shoveler, New Zealand subspecies. Image by Michael Hamilton - Some rights reserved. Amazon. More
However, Australasian Shoveler has spotted sides and a brown breast. Therefore, one possibility that at least fits the color pattern and only invokes two parents is an exotic Austalasian Shoveler X Cinnamon Teal hybrid. Comments invited." - Michael Moore From Birds of North American Online 10 March 2007 photos by Terry Thomas Reference DuBowy, P. J. 1996. Northern Shoveler (Anas clypeata). More
* Australasian Shoveler, Anas rhynchotis * Northern Shoveler, Anas clypeata Stub icon This Anseriformes article is a stub. You can help Wikipedia by expanding it.v • d • e W The content appearing above is a local copy of the Shoveler article from Wikipedia, the free encyclopedia. It was written by various Wikipedians (contributor history) and is distributed under the Creative Commons CC-BY-SA 3.0 License (license text). More
Survival rates of australasian shoveler ducks in New Zealand Auteur(s) / Author(s) BARKER Richard J. ; CAITHNESS Tom ; WILLIAMS Murray ; Résumé / Abstract We studied survival and movement of Australasian shoveler (Anas rhynchotis) using 883 band recoveries reported by hunters from 4,080 adult and 881 pre-fledged juveniles banded in 2 regions of New Zealand between 1972 and 1985. More
Australasian Shoveler N Anas rhynchotis (Australian Shoveler) http://www.colorado.edu/research/cires/banff/pubpapers/159/ GIS/EM4 - Spatial prediction of predation in the landscape: ...predictors that could be considered include distance to black-backed gull (Larus http://www-odp.tamu.edu/~dillard/ausbird1.html Australian Birds: Emu Grebe, Australasian Grebe, Hoary-headed Grebe, Great Crested Penguin, Little http://www.museum.lsu.edu/~Remsen/SACCList.html Classification of birds of South America; Composite List: Pelican Morus capensis, Cape Gannet Morus serrator, Australasian Gannet Sula ... Ictinia http://www.museum.lsu.edu/~Remsen/SACCBaseline02. More
Australasian shovelers or kuruwhengu have a long, narrow body, and float low in the water. In breeding plumage, males have a narrow white crescent at the base of the bill and a large white rump patch. Their bill is a broad, curved spatula with a pointed tip. More
* Australasian Shoveler, Anas rhynchotis * Northern Shoveler, Anas clypeata Stub icon This Anseriformes article is a stub. You can help Wikipedia by expanding it. More