Meller's Duck
Meller's Duck is a species of the dabbling duck genus Anas. It is endemic to eastern Madagascar. Although a population was established on Mauritius in the mid-18th century, this is on the verge of extinction due to habitat loss and competition by feral domestic ducks. The species name of this species is after the botanist Charles James Meller, and its generic name is from the Ancient Greek for a duck.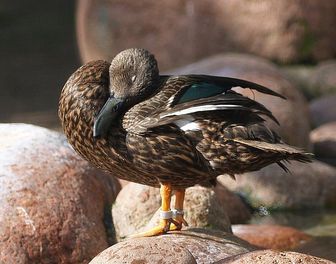 Picture of the Meller's Duck has been licensed under a
GFDL
Original source
: Own work
Author
: Sarefo
Permission
: GNU Free Documentation License
The Meller's Duck is classified as Endangered (EN), considered to be facing a very high risk of extinction in the wild.

Meller's Duck (Anas melleri) is a species of the dabbling duck genus Anas. It is endemic to eastern Madagascar. Although a population was established on Mauritius in the mid-18th century, this is on the verge of extinction due to habitat loss and competition by feral domestic ducks. The species name of this species is after the botanist Charles James Meller, and its generic name is from the Ancient Greek for a duck. More
Meller's duck is found only on the eastern slopes of the central highlands in Madagascar and in Mauritius (where it is almost extinct). It is a dabbling duck, which means its legs are set more to the centre than in a diving duck, making it a fast mover on land. It normally takes off from the water. More
Images Meller's duck with green speculum on wing While this duck may not look too remarkable, it is distinguished by its unfortunate reputation as one of the rarest species of wildfowl. A large duck with brown plumage, flecked and streaked with pale brown, the most striking feature of the ... More
Lo, for I have seen the Meller's duck, and it was good - Category: ornithology Posted on: August 26, 2009 2:28 PM, by Darren Naish Anas_melleri_Joseph_Wolf_wikipedia_Aug-2009.jpg If you said that the mystery duck from yesterday was a mallard, a weird mallard hybrid, a shoveler of some sort, or blah blah blah, then shame shame shame on you: you are a loser. More
Meller's Duck breeds apparently during most of the year except May-June on Madagascar, dependent on local conditions; the Mauritian population has been recorded to breed in October and November. Unlike most of their closer relatives - with the exception of the African Black Duck -, they are fiercely territorial during the breeding season; furthermore, pairs remain mated until the young are independent.(Young & Rhymer 1998) This species is classified as Endangered by the IUCN. More
Meller's Duck, the Yellow-billed Duck, and the Mexican Duck, in the latter case even leading to a dispute whether these birds should be considered a species (and thus entitled to more conservation research and funding) or included in the mallard. Mallards are also causing severe "genetic pollution" of South Africa's biodiversity by breeding with endemic ducks, although the Agreement on the Conservation of African-Eurasian Migratory Waterbirds applies to the Mallard. More
Meller's Duck was just considered a recent island isolate of the common and widespread Mallard for many years. Both male and female Meller Ducks resemble a female Mallard at first glance. Because of its sober colors (dark grey-brown all over) it is not popular among keepers of ornamental wildfowl. It is a species of the dabbling duck genus 'Anas'. PHYSICAL DESCRIPTION Meller's Duck is a rather dark grey-brown all over, including the head section. More
Meller's duck is a medium-sized duck, weighing up to 1 kg (2 lb) and measuring 60 cm (25 in) long. Both male and female resemble the female mallard duck, which is brown. HABITAT/FEEDING Meller's duck is found in freshwater wetlands, rice paddies, marshes, lakes, ponds, rivers and streams in humid forested areas. Meller's duck is omnivorous and feeds on aquatic plants and seeds, and it will also eat small fish, shrimps, insects and snails. More
that the Meller's duck is one of only four species of dabbling duck (genus Anas) resident in Madagascar, including the Madagascar Teal A. bernieri, Red-billed Pintail A. erythrorhyncha, Hottentot Teal A. hottentota and Meller's Duck A. melleri? Of these, A. bernieri and A. melleri are endemic. More
sorry Meller's Duck found in a small forest stream! Numbers of this species seems to go down quickly due to hunting. More
Rare Meller's Ducks Hatched At Louisville Zoo Tue, 8/11/2009 - 9:22 AM By Kara Bussabarger Louisville, KY - Louisville Zoo recently hatched two Meller's ducklings, one of the world's rarest and least know species of wildfowl. They are the first Meller's ducks ever born at the Zoo. There are only about 2,000 Meller's ducks left in the wild (in Madagascar) and 150 in zoos worldwide. More