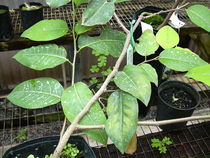 Picture of the has been licensed under a Creative Commons
Attribution
.
Original source
: Plants of Hawaii, Image 030523-0020 from http://www.hear.org/starr/plants/images/image/?q=030523-0020
Author
: Forest & Kim Starr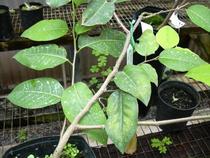 Picture of the has been licensed under a Creative Commons
Attribution
.
Permission
: Some rights reserved
Flueggea neowawraea
Flueggea neowawraea, M?hamehame, is a species of flowering tree in the Bignay family, Phyllanthaceae, that is endemic to Hawaii. It can be found in dry, coastal mesic, and mixed mesic forests at elevations of 250 to 1,000 m . Associated plants include kukui , hame , ?ahakea , alahe?e , olopua , hao , and a?ia?i . M?hamehame was one of the largest trees in Hawai?i, reaching a height of 30 m and trunk diameter of 2 m . Native Hawaiians used the extremely hard wood of this tree to make weaponry.
* Media related to Flueggea neowawraea at Wikimedia Commons * "Taxon Summary: Flueggea neowawraea". Final Implementation Plan for M?kua Military Reservation, Island of O?ahu. United States Army. May 2003. http://www.botany.hawaii.edu/faculty/duffy/DPW/2003_MIP/Sec_1/FluNeo.pdf. Stub icon This Malpighiales article is a stub. You can help Wikipedia by expanding it.v • d • e Stub icon This tree-related article is a stub. More
Flueggea neowawraea is Not Sponsored Primary custodian for this plant in the CPC National Collection of Endangered Plants is: National Tropical Botanical Garden - Flueggea neowawraea - Flueggea neowawraea, a member of the spurge family (Euphorbiaceae) is the only member of its genus in Hawai More
The wood of Flueggea neowawraea is known for its extraordinary hardness, and was used by Hawaiians for weaponry. (http://www.centerforplantconservation.org/ASP/CPC_ViewProfile. More
For more multimedia, look at Flueggea neowawraea on Wikimedia Commons. Retrieved from "http://species.wikimedia. More