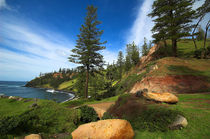 Picture of the has been licensed under a Creative Commons
Attribution
.
Original source
: originally posted to Flickr as Norfolk Island
Author
: thinboyfatter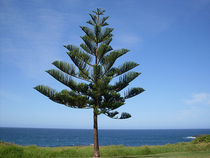 Picture of the has been licensed under a Creative Commons
Attribution
.
Permission
: Some rights reserved
Norfolk island pine
The trees grow to a height of 50–65 m, with straight vertical trunks and symmetrical branches, even in the face of incessant onshore winds that can contort most other species.
Araucaria heterophylla is native to Norfolk Island in the southern Pacific Ocean, east of Australia. This island was discovered by Captain James Cook, claimed for Great Britain, and named for the Duchess of Norfolk. This tiny 3 by 5 mile long tropical paradise is famous not only for its namesake tree, but has a place in history, having been settled in 1856 by Pitcairners, descendants of Fletcher Christian and the other mutineers from the H.M.S. Bounty. More
Propagation: Araucaria heterophylla is best propagated from seed. Araucaria heterophylla was featured as Plant of the Week December 19, 2003- January 8, 2004. More