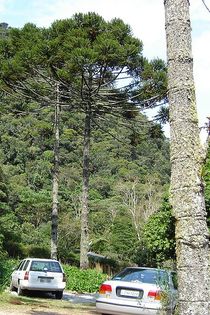 Picture of the has been licensed under a Creative Commons
Attribution-Share Alike
.
Original source
: the author is owner
Author
: Eurico Zimbres FGEL/UERJ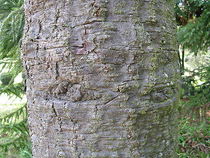 Parana pine
It is an evergreen tree growing to 40 m tall and 1 m trunk diameter. The leaves are thick, tough and scale like, triangular, 3–6 cm long, 5–10 mm broad at the base, and with razor-sharp edges and tip. They persist 10 to 15 years, so cover most of the tree except for the trunk and older branches.
Parana pine sapling on fallen tree© Xico Putini Parana pine trees in open field© Silvestre Silva / www.flpa-images.co.uk Parana pine trees in forest© Haroldo Palo Jr / www.nhpa.co.uk Parana pine© François Gohier / www.ardea.com Parana pine in open field© Haroldo Palo Jr / www.nhpa.co.uk Group of parana pine trees in open field© Haroldo Palo Jr / www.nhpa.co. More
You can see on this picture that the Parana pine has a umber of shades we try to select the outer side of the face string to match the Hemlock stairparts. More