Blyth's loach
Unlike other members of the Tiger Botia group, the Syncrossus berdmorei keeps its striking red finnage and body coloration throughout its life.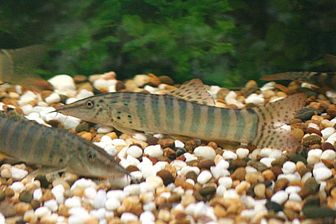 Picture of the Blyth's loach has been licensed under a
GFDL
Original source
: self-made. 400D+50/1.4 Author Lerdsuwa
Author
: Lerdsuwa
Permission
: GNU Free Documentation License
The Blyth's loach lives in the demersal, freshwater, pH range: 6.5 - 7.5, dH range: 12 environment.
or Blyth's loach be ready for its rather quarrelsome nature. It could fair fine with more robust tank mates, or it may be the star of its own aquarium! The adult coloration of the Berdmore's Loach or Blyth's loach is quite striking. More
Blyth's Loach / Redfin Tiger Botia German (Schmerle) Danish Blyths Smerling French (Loche) Spanish (Colmilleja More
berdmorei - Blyth's Loach ou Redfin Tiger Loach. Agora eu vim aqui e vi esta sua submiss More
Common names
Blyth's loach in English
Mřenka Berdnoreova in Czech (česky)
Mřenka thajská in Czech (česky)
Rengasnuoliainen in Finnish (suomen kieli)
Sekavka Berdmoreova in Czech (česky)
Tiger loach in English
緬甸沙鰍 in Mandarin Chinese
缅甸沙鳅 in Mandarin Chinese

Custom Search