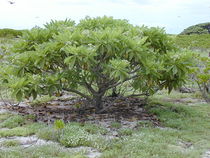 Picture of the has been licensed under a Creative Commons
Attribution
.
Original source
: Plants of Hawaii, Image 010520-0073 from http://www.hear.org/starr/plants/images/image/?q=010520-0073
Author
: Forest & Kim Starr
Argusia argentea
Heliotropium foertherianum is a species of flowering plant in the borage family, Boraginaceae. It is native to tropical Asia, including southern China, Madagascar, northern Australia, and most of the atolls and high islands of Micronesia and Polynesia. Common names include Tree Heliotrope, Velvet Soldierbush and Octopus Bush. It is a shrub or small tree, reaching a height of 6 m , with a similar spread.
Argusia argentea, and remained under that name until recently. It was recently restored to Tournefortia before being transferred into Heliotropium under a new name in 2003. References - 1. ^ World Conservation Monitoring Centre 1998. Argusia argentea. 2006 IUCN Red List of Threatened Species. Downloaded on 20 August 2007. 2. ^ Elevitch, Craig R.; Harley I. Manner (April 2006) (PDF). More