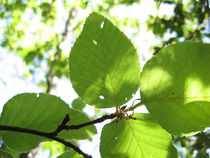 Picture of the has been licensed under a Creative Commons
Attribution
.
Original source
: originally posted to Flickr as Nothofagus alessandri Espinosa.
Author
: pabloendemico
Nothofagus alessandri
It is a straight tree trunk and gray that can measure up to 30 m tall. Its leaves are of an ovate, ovate-cordate or lanceolate, with primary veins conspicuous and serrated edge. The flowers are unisexual and inconspicuous, greenish.
relictos de Nothofagus alessandri (Ruil), VII Region del Maule. Silva Munoz, Rodrigo Adrian; Villalobos Mateluna, Pablo (Prof. Guia) 2007 Valoracion economica de un sendero interpretativo en el sector cordillarano Cajon de Juncal. Region de Valparaiso. Pineda Vasquez, Elvis David; Ponce Donoso, Mauricio (Prof. More
Nothofagus alessandri (Ruil) is a species of plant in the Fagaceae family. It is endemic to Chile. It is threatened by habitat loss. The species is protected within Los Ruiles National Reserve. Description - It is a straight tree trunk and gray that can measure up to 30 m tall. Its leaves are of an ovate, ovate-cordate or lanceolate, with primary veins conspicuous and serrated edge. The flowers are unisexual and inconspicuous, greenish. More
Nothofagus alessandri Espin Ruil. A deciduous tree to 30m. from central Chile Z9. Members' images and comments Click here to upload and share your photos and comments about this plant (JPEG only please). More