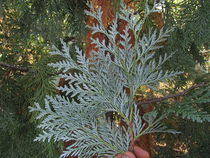 Picture of the has been licensed under a
GFDL
Original source
: I (Themodoccypress (talk)) created this work entirely by myself.
Author
: Themodoccypress (talk)
Permission
: GNU Free Documentation License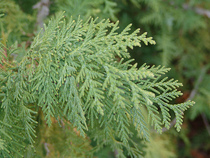 Picture of the has been licensed under a Creative Commons
Attribution
.
Permission
: Some rights reserved
Thuja koraiensis
It is an evergreen shrub or small tree growing to 3-10 m tall. The foliage forms flat sprays with scale-like leaves 2-4 mm long , matt dark green above, and with broad, vivid white stomatal wax bands below. The cones are oval, yellow-green ripening red-brown, 7-11 mm long and 4-5 mm broad , with 8-12 overlapping scales.
Thuja koraiensis is a species of Thuja, native to Korea and the extreme northeast of China (Changbaishan). Its current status is poorly known; the small population in China is protected in the Changbaishan Nature Reserve, as is the small population in Soraksan Nature Reserve in northern South Korea, but most of the species' range in North Korea is unprotected and threatened by habitat loss. It is an evergreen shrub or small tree growing to 3-10 m tall. More
Thuja koraiensis Thuja occidentalis Thuja plicata Thuja standishii Thuja... More