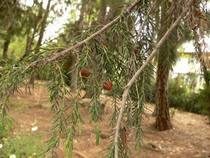 Picture of the has been licensed under a Creative Commons
Attribution
.
Permission
: Some rights reserved
Canary Islands juniper
It is a large shrub or tree growing to a height of 5-20 m . The leaves are evergreen, needle-like, in whorls of three, green to glaucous-green, 8-23 mm long and 1-2 mm broad, with a double white stomatal band on the inner surface. It is usually dioecious, with separate male and female plants. The seed cones are berry-like, green ripening in 18 months to orange-red with a variable pink waxy coating; they are spherical, 8-15 mm diameter, and have six fused scales in two whorls of three; the three larger scales each with a single seed. The seeds are dispersed when birds eat the cones, digesting the fleshy scales and passing the hard seeds in their droppings. The male cones are yellow, 2-3 mm long, and fall soon after shedding their pollen in February-March.
Juniperus cedrus (Canary Islands Juniper) is a species of juniper, native to the western Canary Islands (Tenerife, La Palma, Gran Canaria, Gomera) and Madeira (J. cedrus Webb & Berthel. subsp. maderensis (Menezes) Rivas Mart. & al.) , where it occurs at altitudes of 500-2400 m. It is closely related to Juniperus oxycedrus (Prickly Juniper) of the Mediterranean region and Juniperus brevifolia (Azores Juniper) of the Azores. More
Juniperus cedrus maderensis (Menezes) Rivas Mart. & Al. 2. Juniperus grandifolius Link 3. Juniperus oxycedrus maderensis Menezes 4. Juniperus webbii Carri?re Notes Name Status: Accepted Name . Latest taxonomic scrutiny: Farjon A. More