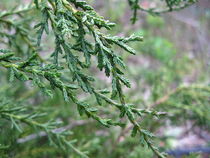 Picture of the has been licensed under a
GFDL
Original source
: I (Joey Malone) created this work entirely by myself.
Author
: J. Malone
Permission
: GNU Free Documentation License
Diselma
It is a dioecious shrub or rarely a small tree, growing to 1-6 m. The leaves are scale-like, 2-3 mm long, arranged in four ranks in opposite decussate pairs. The cones are among the smallest of any conifer, 2-3 mm long, green ripening brown in about 7-8 months from pollination, and have four scales arranged in two opposite pairs, each scale bearing a short bract; the upper pair of scales bearing two small winged seeds.
Diselma archeri can be compared with Microcachrys tetragona. They grow in similar environments in Tasmania and require similar gowing conditions. Text by Stephen Hughes, ANBG (1981) Look here for a glossary of botanical terms. More
Diselma archeri (chestnut pine) description Mar 29, 2010 ... Description, image, and range of this endemic of Tasmania. www.conifers.org More Reference from RightHealth News & Updates for Diselma - Tweets from Twitter.com One sec... we're getting the Tweets More News & Updates from Twitter. More