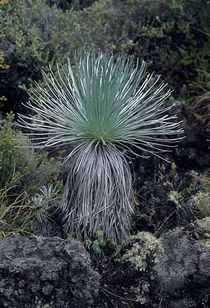 Picture of the has been licensed under a Creative Commons
Attribution-Share Alike
.
Original source
: Mauna Loa silversword (Argyroxiphium kauense), Kahuku, Hawaii Volcanoes National Park. Photo by Karl Magnacca.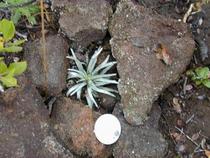 Picture of the has been licensed under a Creative Commons
Attribution
.
Permission
: Some rights reserved
Kau silversword
Although threatened by damage from feral pigs, goats, and mouflon sheep, most of the areas where it currently exists are now protected, and the species is actively managed by the National Park Service and Hawai?i State Department of Forestry and Wildlife.
Images Kau silversword plants in nursery Kau silversword plants in nursery Species related by - * Family group * Habitat * Conservation status * * View image slideshow * Link to this image * Email to a friend * More