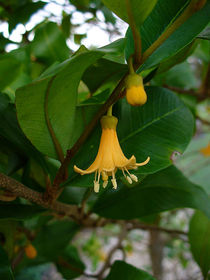 Picture of the has been licensed under a Creative Commons
Attribution
.
Original source
: Goetzea elegans, flickr
Author
: Scott Zona from USA
Beautiful goetzea
This is a shrub or a tree which can reach 9 meters in height. The leaves are shiny dark green and oval in shape. It bears yellow-orange, funnel-shaped flowers. The fruit is a yellow-orange berry up to 2.5 centimeters long. It may be poisonous.
Beautiful goetzea is endemic to Puerto Rico, growing naturally in a few localities on the northern half of the island and in Vieques. It reaches a height of 50 feet, with a trunk 10 inches in diameter. The leaves are simple and up to 4 inches long. Flowers are slightly less that 1 inch long and produce abundant nectar that attracts bees and bananaquits. Fruits are about three quarters of an inch in diameter and have a smooth surface. More
Beautiful goetzea is an evergreen shrub or small tree that can grow to 9 meters (30 feet) in height. - Beautiful goetzea is an evergreen shrub or small tree that can grow to 9 meters (30 feet) in height. More