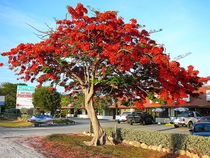 Picture of the has been licensed under a
GFDL
Original source
: Digital photo taken by Marc Averette. Own work by uploader.
Author
: Averette
Permission
: GNU Free Documentation License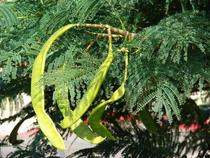 Picture of the has been licensed under a Creative Commons
Attribution
.
Permission
: Some rights reserved
Royal poinciana
In India it is known as Gulmohar . It is also known there as Krishnachura . In Vietnamese it is known as Ph??ng v? , Malinche, and Tabachine.
The seed pods of the Royal Poincianas are used in the Caribbean as a percussion instrument known as the shak-shak or maraca. More
The Royal Poinciana is endemic to Madagascar, where it is found in the Madagascar dry deciduous forests. In the wild it is endangered, but it is widely cultivated elsewhere. In addition to its ornamental value, it is also a useful shade tree in tropical conditions, because it usually grows to a modest height but spreads widely, and its dense foliage provides full shade. More