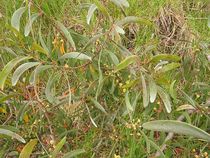 Picture of the has been licensed under a Creative Commons
Attribution-Share Alike
.
Original source
: Transferred from en.wikipedia; transferred to Commons by User:Jacob Robertson using CommonsHelper.
Author
: Original uploader was KarlM at en.wikipedia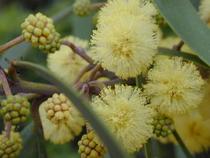 Picture of the has been licensed under a Creative Commons
Attribution
.
Permission
: Some rights reserved
Acacia koaia
Koai?a is highly adapted to dry habitats, and is capable of forming dense forests in areas with very little rainfall. It was formerly found widely in dry forests on all of the main islands. Associated plants include uluhe , hala , ko?oko?olau , koki?o , nehe , hala pepe , and ??hi?a lehua .
Acacia koaia, known as koai?a or koai?e in Hawaiian, is a tree in the pea family, Fabaceae, that is endemic to Hawaii. It is closely related to koa (A. koa), and is sometimes considered to be the same species. Koai?a is usually distinguished by growing as a short (rarely more than 5 m/16 ft), broad, gnarled tree; having the seeds longitudinally arranged in the pod; shorter, straighter phyllodes; and much denser wood. More