Steingressling
The Danube Gudgeon is a species of ray-finned fish in the Cyprinidae family.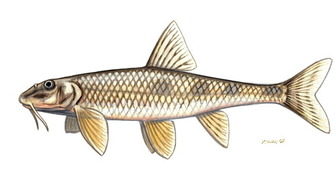 Picture of the Steingressling has been licensed under a Creative Commons
Attribution-Share Alike
.
Original source
: http://zsoldoseladokepek.freeblog.hu/ Author Zsoldos Márton Permission (
Author
: Zsoldos Márton Permission (Reusing this file)
The Steingressling lives in the benthopelagic, freshwater environment.
Der Steingreßling (Romanogobio uranoscopus) ist ein seltener mitteleuropäischer Fisch aus der Familie der Karpfenartigen. Bis 1996 wurde die Art in der Gattung Gobio geführt. More
Der Steingressling hat deutlich längere Bartfäden die bis über den hinteren Augenrand zurückreichen. Lebensraum: Er bewohnt Flüsse mit starker Strömung und lebt am Grund. Man findet ihn auch in der Forellenregion. More
09 15:45Käufer: steingressling(228Bewertungspunktestand von 100 bis 499) Artikelnr.: 200281657119 Positive Bewertung Danke alles super gern wieder 09.01.09 20:00Käufer: snoopi1006(116Bewertungspunktestand von 100 bis 499) Artikelnr. More
beim Steingressling Dieser gesellig lebende Grundfisch lebt in schnellfließenden aber auch stehenden Gewässern mit kiesigem oder sandigem Grund und Pflanzenbewuchs. Die Eier werden im fließenden Wasser in Klümpchen an flachen Stellen an Steinen und Pflanzen abgelegt. More
Common names
Chetrar in Rumanian
Danube Gudgeon in English
Danubian gudgeon in English
Danubian longbarbel gudgeon in English
Donaugrundling in Danish (dansk)
Dunaiskii dinnousyi peskar' in Russian (русский язык)
Dunaiskii dlinnousyi peskar in Russian (русский язык)
Felpillantó külló in Hungarian (Magyar)
Góbio-do-Danúbio in Portuguese (Português)
Gräßling in German (Deutsch)
Hrouzek dlouhoploutvý in Czech (česky)
Hrouzek dlouhovousý in Czech (česky)
Hrúz fúzatý in Slovak (slovenčina)
Kielb dlugowasy in Polish (polski)
Kivitörö in Finnish (suomen kieli)
Peskar'-verkhoglyad in Russian (русский язык)
Petroc in Rumanian
Pichkur dunaiskyi dovgousyi in Ukrainian (українська мова)
Porcusor de vad in Rumanian
Romanogobio uranoscopus in Catalan (Català)
Steingressling in English
Steingressling in German (Deutsch)
Steinkresse in German (Deutsch)
Steinkreßling in German (Deutsch)
Stenkrypare in Swedish (Svenska)
Wapper in German (Deutsch)
пескарь длинноусый in Russian (русский язык)
望天鮈 in Chinese (中文)
望天鮈 in Mandarin Chinese

Custom Search