Rufous Hornero
The Rufous Hornero is a large ovenbird with a square tail and a straight bill. The plumage is overall reddish brown with a dull brown crown and a whitish throat. Both sexes look alike, and juvenile birds are slightly paler below. There is some clinal size variation from north to south due to Bergmann's Rule. Rufous Horneros feed on insects and other arthropods obtained by foraging on the ground while walking.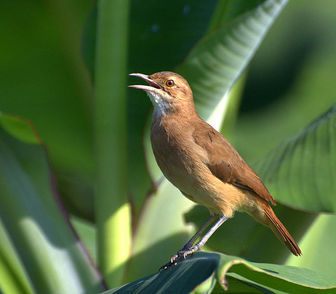 Picture of the Rufous Hornero has been licensed under a Creative Commons
Attribution-Share Alike
.
Original source
: JOÃO-DE-BARRO (Furnarius rufus)
Author
: Dario Sanches from São Paulo, Brasil
The Rufous Hornero is classified as Least Concern. Does not qualify for a more at risk category. Widespread and abundant taxa are included in this category.

The Rufous Hornero Furnarius rufus is very common in open country in the southern half of South America east of the Andes and is the national bird of Argentina. Rather thrush-like, Horneros (there are eight species of Furnarius) are actually funariids, a diverse family which currently includes seemingly unrelated tribes as the 'true ovenbirds' (which includes the horneros), Woodcreepers, and spinetails. More
Rufous Hornero building a nest in Minas Gerais, Brazil Scientific classification Kingdom: Animalia Phylum: Chordata Class: Aves Order: Passeriformes Family: Furnariidae Genus: Furnarius Vieillot, 1816 Species See text The horneros are members of the genus Furnarius in the family More
The Rufous Hornero, Furnarius rufus, is a large ovenbird from eastern South America. Also known as the Red Ovenbird, it is a common species of second-growth scrub, pastures and agricultural land, and the species is often seen near areas of human inhabitation. Its range includes south eastern Brazil, Bolivia, Paraguay, Uruguay and northern and central Argentina (down to northern Patagonia). The species is most closely related to the Crested Hornero of Paraguay and Argentina. There are four accepted subspecies. More
The Rufous Hornero was one of the most common birds in the area I visited near Lagoa do Peixe. The Rufous Hornero lives in southeastern South America, including the southern states of Brazil. It is the national bird of Argentina, where it is widespread. The Rufous Hornero is named after the ovenlike mud nests it builds. Its Brazilian name means John-of-Mud, the Spanish name means Ovenbird. More
Rufous Hornero are residents of second growth scrub and pastureland from central Brazil west to Bolivia and south to southern Argentina. Noted more for their distinctive nests than for their appearance, Rufous Hornero are large ovenbirds with rufescent brown upperparts, light rufous supercilia, and tawny breast and underparts. Rufous Hornero feed predominantly on insects such as beetles, crickets, ants, and termites, which they capture while foraging on the ground. More
The rufous hornero occurs in northern and eastern Bolivia, southern Brazil, Paraguay, Uruguay, and northern and central Argentina (2). View a distribution map for this species at UNEP World Conservation Monitoring Centre. Habitat - Mainly found in open or semi-open habitats below 2,500 metres (2). More
rufous hornero makes this very fascinating mud house. The interior of the house goes in a circle from the entrance through the hallway to the room/nest, so that the wall of the room/nest is next to the entrance. They make the nest in any suitable place: telophone pole, tree, high wall. The nest does not seem to have requirements of shade or sun because it makes its nest in either. The mud house likely insulates against both cold and especially heat. More
the Rufous Hornero is one of the first birds to catch the eye on arrival in Paraguay. However it is not their gentlemanly conduct that makes them so fascinating, but their unique clay nests that earns them the nickname More
The Rufous Hornero is a national emblem of Argentina, one of the several countries it inhabits. Contents - * 1 Species * 2 Image Gallery * 3 References * 4 External links Species - * Pale-legged Hornero (Furnarius leucopus). * Pacific Hornero (Furnarius (leucopus) cinnamomeus). More
The Rufous Hornero is a large ovenbird with a square tail and a straight bill. The plumage is overall reddish brown with a dull brown crown and a whitish throat. Both sexes look alike, and juvenile birds are slightly paler below. There is some clinal size variation from north to south due to Bergmann's Rule. Rufous Horneros feed on insects and other arthropods obtained by foraging on the ground while walking. More
The Rufous Hornero has benefited from human changes to the environment and many live in highly modified habitat. Conversely, it can benefit various other species of birds, such as the Saffron Finch, who nest at its unused "ovens". It is a familiar sight over much of its range and has been adopted as the national bird of Argentina. It is not threatened by human activities and is listed as least concern by the IUCN. More
Rufous Hornero is endemic to South America. This bird is the Argentina's national bird. It forms a part of the Furnariidae Family, and this species builds particular oven-shaped nest with clay and vegetation, giving the bird its different names. Its second English name is Red Ovenbird. Adult male has rufous-brown upperparts, with some pale edges on back and rump. On the upper wing, coverts and secondaries are rufous-brown, whereas primaries are duller, rather brownish. More